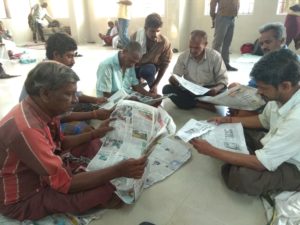 Chennai Corporation has successfully sent all the migrant labourers housed at its shelters to their native places.
Following lockdown, the civic body rescued and sheltered over 100 of them at its community halls in C.P. Ramaswamy Road, Karaneeswarar Pagoda Street and Mandaveli men's shelter.
A few weeks ago, the Corporation arranged vehicles to ferry migrants from its community hall at Karaneeswarar Pagoda Street to their native villages. And now, migrants at its other two shelters have also been sent home.
Says Govindaraj, who manages the community hall at C.P. Ramaswamy Road, "Since the past few weeks, we have been sending migrants to their native places via the shramik special trains. A few days ago, we sent the last batch home."
He says that all migrants at Mandaveli shelter have also been sent home.