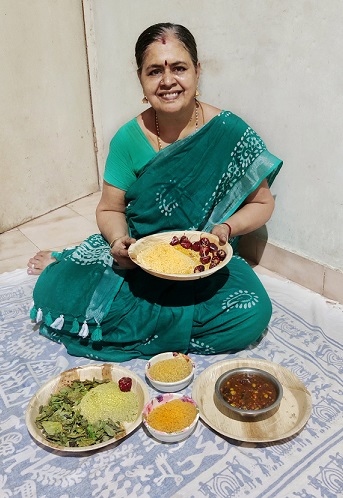 Geetha Muthukumaran, a resident of Mundagakanni Amman Koil Street, Mylapore has always made her own podis at home.
Though she worked as an investment consultant, Geetha would always find the time to spread out the ingredients for her masalas and podi on her sunny terrace and take them to the nearest mill to get it ground. In the rainy season, she would spread hours frying it to ensure the podi is fresh. And she has been doing this for almost three decades.
When she quit her job after the lockdown, Geetha decided to start making podis at home and selling them. The result was 'Mylapore Masalas'.
In addition to selling sambar and rasam powder, she also sells karuvepillai (curry leaf) podi, poondu (garlic) podi, idli milagai podi, biriyani masala and puliyodharai mix.
She says puliyodharai mix is the most challenging to make. "Puliyodharai paste tastes great when made on a low flame. And we have to keep stirring it. It takes a lot of time to make it. ".
All her podis can be kept outside and will remain fresh for atleast three months she says. "Puliyodharai paste however needs to be refrigerated and will last for about a month". She has also recently started making pickles, nellika, tomato and manga being her favourites.
Her 100 g packs of sambar and rasam powder are priced at Rs. 40. Karuvepillai podi and poondu podi are priced at Rs. 50 for 100 g and puliyodharai mix at Rs. 150 for 250 g.
She accepts bulk orders. Customers can either pick up the order from her home or can order through Dunzo or Swiggy. She stays at A block, 3rd floor, No. 2, Panna Oasis apartment, 35/36, Mundagakanni Amman Koil Street, Mylapore. Contact her at 9488604508.