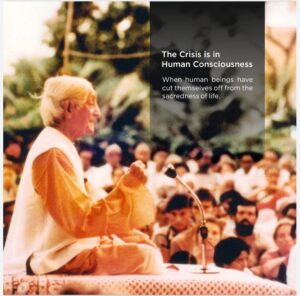 Krishnamurti Foundation of India (KFI) at Greenways Road in R.A.Puram has come up with a digital booklet to connect with its followers during lockdown.
Titled 'The Real Crisis', the booklet encompasses philosopher Jiddu Krishnamurti's teachings, that he has spoken over 5 decades from 1934 to 1985.
Says a representative from KFI, "The booklet features Krishnamurti's teachings that unravels the reasons why man is confronted with different kinds of crisis."
"The 40 passage booklet, reflect that the real crisis is happening due to man's lack of relationship with nature, search for entertainment, man's lack of seriousness about life and the purpose of human existence in general. Though he spoke about this several decades ago, it is timeless and relevant to the current scenario."
Following lockdown, KFI that focuses on spreading the teachings of Krishnamurti has been closed for the public. "Now as we are unable to reach to people through books or newsletters, we put together some of the highlights of his talks and writings on 'crisis' and published as a digital booklet so people can relate to it and engage in self-reflection," he says.
The digital booklet is available for free download at https://www.kfionline.org/.
KFI also plans to translate it to different Indian languages soon.
At 124, 126, Vasanta Vihar, Greenways Road, Raja Annamalai Puram. Ph: 24937803.
Picture: Screengrab of digital booklet; Courtesy: KFI