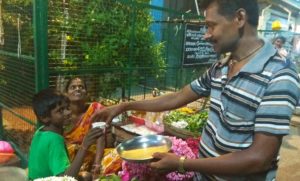 The lockdown has not deterred this 40 something old tea seller from serving customers.
Ravindran is one of the many tea sellers who run mobile tea shops on a bicycle and go around the neighbourhood serving hot tea/coffee to shopkeepers, security guards and hawkers.
Fondly called as 'Deva' by locals, all his regulars used to find his service highly useful. Though his tea was priced at Rs. 10, he would sell it at lower rates so the needy could afford it.
However, following lockdown, his business was affected.
But Ravindran says he stuck to his post for the past three months.
Says Ravindran, a resident of Mylapore, "As most shops, hawker stalls and temples are closed my business has gone down. I was affected very badly in March since it was a complete lockdown then. There were days when I didn't even earn Rs 10."
"However, I had to take care of two small children, my wife and parents. Hence, I continued to serve tea to shopkeepers and others on the streets."
"Till now, we somehow managed to make ends meet. But going forward, I don't know how we will manage."
Ravindran has been in this business for over 30 years. "So I'm very interested in my work. Also, I cannot take up a new business as I do not know one."
He says he would take all precautions to prevent the virus spread and go about his job no matter what.
Picture: file photo of Ravindran taken few months ago.