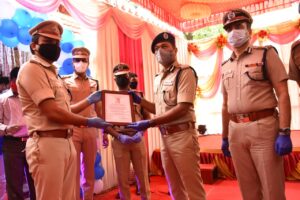 On July 6, D. Shekhar Sanjay, the Deputy Commissioner of Police (DCP) attached to Mylapore zone rejoined official duty, after fully recovering from the virus.
To mark the occasion, a small function was organised at Mylapore police station off Kutchery Road.
Chennai Commissioner of Police Mahesh Kumar Aggarwal presided over the event and presented a bouquet and certificate of appreciation to welcome the DCP.
The DCP, who has his office inside this police station tested virus positive in early June. Following this, he took treatment from a private hospital and was home quarantined.
Says S. Nelson, Assistant Commissioner of Police, Mylapore, "At the event, 7 other police officers, 2 from Mylapore police station, one from Patinampakkam police station, and 4 from other city police stations rejoined duty after recovering from the virus. They were also welcomed with bouquets and certificates."
Nelson too returned to duty recently after recovering from the virus.
Some people wonder why a song and dance must be made in these times while welcoming back police staff after their recovery;they say a symbolic act would do. Raising colourful balloons and shamiana, laying a red carpet, playing music and showering flowers is ostentatious in these times.
Picture courtesy: S. Nelson, ACP, Mylapore