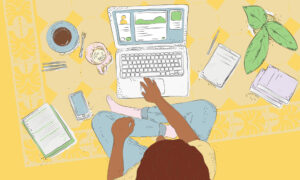 Life of office-goers in the neighbourhood has changed post lockdown. For they have been working from home for close to three months now.
While some say work from home (WFH) is easy, others say they face challenges due to uncomfortable workspace and lack of social life.
For 25-year-old Sanjana, a resident of Alwarpet, who works at a digital marketing company the transition was smooth.
Says Sanjana, "Being an assistant manager for social media, most of my work happens online. So when we were given WFH, it was quite easy for me. Our company also provided a range of productivity Apps and allowed flexible timings, which really helped me to stay focussed."
Similar is the case of 24-year-old Shilpa Samir, a San Thomite, who is employed as a Tax Analyst at a neighbourhood firm. "WFH is comfortable for me. However, as a fresher, my only challenge is that I'm finding it difficult to get help from seniors. At office, I would just go to their seat and get my doubts cleared. But now, the process is getting delayed as I'm unable to reach them quickly."
Shilpa works at home, sharing a room with her sister Aashika Samir, who is also WFH. "As my parents and grandmother live in the other rooms, after lockdown, we had to work in one room. And that was a huge problem initially. This is because we would have back to back calls and zoom meetings, and as my sister's voice is loud, I had to talk very softly to manage my call."
When asked about this, Aashika laughs and says, "My sister used to ask me to 'Shut up' and even made me switch off the fan once. But we have got used to it now."
Besides another challenge that the sisters face is due to uncomfortable workspace at home. "Our sitting posture has gone for a toss. As we work on the bed, we get frequent back pain too, " says Shilpa, and instantly adds, "Considering that WFH will continue for us through the year, we have ordered tables and chairs to make ourselves comfortable."
30 something old Aravindan, a resident of San Thome says WFH has helped him save time spent on travelling to office.
Says Aravindhan, "I work as a delivery manager for an IT firm in Siruseri. So travelling up and down itself would take-up all my energy. Not to mention the associated stress due to traffic. Post lockdown, as I WFH that problem has solved and I'm very peaceful now."
However, I face some challenges in demonstrating the project online, he says.
One common woe of all the office goers we spoke to was the absence of social life.
"I really miss the coffee breaks and interactions with colleagues. I'm desperately waiting to go back to office if allowed," said Aashika.
Picture courtesy: https://ideas.ted.com/