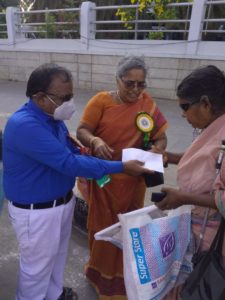 R. A. Puram based couple Arunachalam and Geeta, who are known for reaching out to visually challenged and physically challenged community across Tamil Nadu, passed away recently.
While 58-year-old Geeta passed away on June 29, after succumbing to the virus, Arunachalam aged 61 passed the next day (June 30) due to heart disease.
Says Velayudam, the elder son of Arunachalam, "We were treating both at Government Multispeciality Hospital at Omandurar Estate. However, as mother had diabetes she passed 10 days after testing virus-positive."
"Soon, though father was not virus-positive, he too passed due to heart disease," he says.
For over 35 years, the couple based in KVB Gardens, R.A.Puram ran an association called All India Blind Progressive Association, through which they carried out various welfare activities for visually challenged and physically challenged persons.
During lockdown too, despite their old age, the duo arranged a van and distributed groceries and essentials to over 100 daily wage earners of this community.
Besides, during the Lok Sabha Elections 2019, Arunachalam surveyed the whole KVB Gardens and actively helped people locate their names in the voter roll. Known as Thalaivar in the local area, he was also reaching out to people in his neighbourhood during their difficult times.
The couple is survived by two sons Velayudam and Manikandan. Velayudam can be reached at 9962441592.
File photo used here – taken few months ago when the duo went around distributing groceries to daily wage earners.