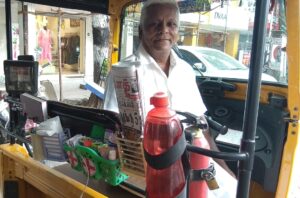 "Though autos are allowed to operate, life is tough for us (auto drivers)," says S. Hussian, a Mandaveli based auto driver who resumed his services recently.
The 50-year-old has been riding auto in Mandaveli for the past 35 years and is known for making his customers comfortable by providing them drinking water, general medicines and first aid kit.
Through the years, by offering these additional services, Hussian garnered a number of regular customers too. But post lockdown, he had to take a break for almost 3 months.
Says Hussian, "Hoping to make some profit, I began riding after the relaxation of intense lockdown. But as most companies and schools have not yet opened there are no customers, only few office goers opt to take my auto."
Hussian says he wears a mask and cleans his auto every day. "I also wipe the seat and all touchpoints with Dettol after every customer leaves, but still people are concerned to travel in the auto. After reassuring them multiple times about the precautions I take, a few get in," he says.
Nowadays, he says he gets around Rs 300 to 400 a day. "After spending on fuel, I will be left with a small amount that will suffice to buy daily bread for my family."
The auto driver has a wife and three children. Two sons are car drivers and daughter is a college student. "My sons too are unable to earn now due to lockdown. I'm somehow managing to take care of everyone with whatever money I get."
Hussian says he ferries people in local areas and avoids going to far off places and containment zones to prevent virus spread. People who may need his service may call him at 9840670352.
Picture : file photo of Hussian and his auto taken few months ago