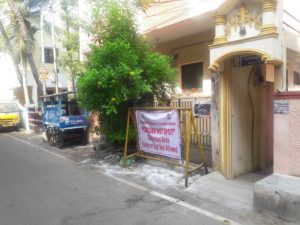 After reporting the lowest count of only 3 streets with virus cases on August 7, Mylapore saw a spike in that number yesterday.
According to Chennai Corporation's data published on its website 19 streets reported virus cases on August 8.
Here is the list of streets that reported virus cases on this day.
Ward 121: Chidambaraswamy 1st Street
Ward 122: Dr Radhakrishnapuram Slum Road, Adyar Club Gate Road
Ward 123: Seethammal Colony 1st Cross Street, Luz Church Road, Lady Desika Road
Ward 124: Pattunoolkararn Thottam 1st Lane, Valluva Thulasingam Street, Solaiappan Street, Mosque Street
Ward 125: Appu 1st Street, Dhanappa Street, Dr Radhakrishnan Road
Ward 126: Rani Annadurai Street
Ward 173: Rohini Garden Cross Street, Govindaswamy Nagar Slum, South Kesavaperumalpuram 2nd Cross Street, Velleswarar Thottam II Street, MRC Nagar Extension.
The information is provided by Chennai Corporation at its website https://www.chennaicorporation.gov.in/images/POSITIVECASES.pdf
Picture: file photo shot in late May 2020