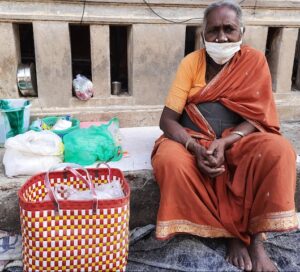 75 year old Rani, a resident of Mandaveli, has been a flower vendor at Sri Srinivasa Perumal Vedanta Desikar Temple for around four decades.
She had a humble beginning when she started off in her 30s with a small plate on which she placed just a couple of varieties of flowers. Over the past two decades, as visitors to this temple increased, Rani offered a variety of flowers and her income improved. The product range now included ghee (to light lamps), kalkandu and dry fruits. Every Thursday, she would make Elaichi Maalai, a specialty of the day.
But now her life has hit a low because of the locked temple in pandemic times.
In ordinary times, Rani would board an auto at 4 a.m. at Mandaveli to make the long trip to the Koyambedu Flower Market and be back at 630 a.m. at the temple to set up shop in time for the Vishroopam Sevai.
On special Utsavam days when the flowers sold out in the first half of the day she made a second trip in the day to George Town to buy flowers for the evening sale.  The business ran so well that her daily routine at the temple extended to noon in the first half and to 9pm in the evening.
But in end March, life flipped. As Rani says, "When the lockdown was announced, I thought it would last a fortnight or so and was hopeful that life would be back to normal and that I would be able to do good business during the Brahmotsavam."
During the lockdown, her grand-daughter has been the one who has made the trip to the flower market in George Town to buy just a couple of varieties of flowers, and in much smaller quantities, to cater to the local devotees who present them to the Lord through the priests of the temple.
In March, she had stocked large quantities of ghee and dry fruits ahead of the big utsavams that were coming up but she was caught unawares by the sudden announcement of the lockdown. The dry fruits went unsold. And she still has a few bottles of ghee in stock.
Her daily routine of 40 years too has changed. She now arrives at the temple at 7am and leaves, by around 9am. She skips her evening duty.
Like many devotees, she stands each day in front of the Srinivasa Perumal temple and prays. Hoping temples will be reopened soon.
Report and photo by S. Prabhu