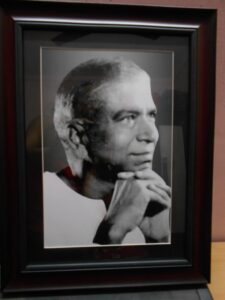 Senior Mylaporeans who are now in their 70s and 80s and were closely tuned in to people and events in the city that were related to India's freedom movement may well remember V. R. Radhakrishnan. A Mylaporean who lived in the Thiruvalluvar Temple area.
Well, on July 20, 2020, a virtual meeting was organised by the grandchildren of Radhakrishnan, fondly known as VRR, to celebrate his birth centenary.
He was the founder of Gandhi Samaj which functioned from his Mylapore house, and a freedom fighter.
He studied at P. S. High School in Mylapore and then went to Loyola College, Madras.
From his younger days, he spent all his time spreading Gandhian thoughts and organised events to inculcate patriotism and Gandhian ideals among students.
During the Quit India Movement in 1942, he was imprisoned at Alipur jail and was defended by R. Venkataraman ( the former India president) in court seeking his release.
His family planned to celebrate his birth centenary in a grand manner at Gandhi Peace Foundation, Chennai but due the pandemic lockdown, the celebration took a different course.
It had to be held via a Zoom meet online. The key participants were Radhakrishnan's entire family and associates of his time; they shared anecdotes about VRR, as he was fondly called.
S. Gurumurthy, auditor and Editor, Thuglak magazine paid his tribute by sharing his memories with VRR and Dr. S. Kulandaisamy, secretary, Gandhi Peace Foundation, talked about how VRR's essay competition for college students in 1971 drew him into the Gandhian lifestyle of living and continuing his service to students which he has done for the past 45 years.
As part of the virtual celebration, Bapu's bhajans were sung and danced to by VRR's great grandchildren and the participants joined in the singing too.
VRR passed away on July 21, 1979 at the age of 59. Gandhi Samaj he founded folded up thereafter.
But his family says his legacy continues to this day, carried on by the thousands of students who travelled with him in Gandhian activities, padayatras, Gandhian pilgrimages, meetings and bhajan.
Recalls M. D. Chander whose family lived next door to VRR's, "He used to take students like us to events themed on Gandhiji and the annual tour to Porbandar, Gandhi's hometown was a big affair for many years. VRR did not bother getting employed, instead devoted all his life to spreading Gandhian principles."
Chander, a old student of P. S. (North) School is now project coordinator at Gandhi Peace Foundation, Alwarpet. He says VRR's portrait was unveiled by the then Tamil Nadu governor Prabhudas Patwari after VRR's demise at Gandhi Mandapam in the city.
One of VRR's son lives and works in the Mylapore area. His wife, now 99 is based in Coimbatore.
Contact M. D. Chander; 5/12, Mogappair West, Chennai 600037. Ph:9176033837.
This report was compiled with inputs from M D Chander.
(()) HAVE MEMORIES OF VRR? Post them in Comments section.
Compiled by: M.D.