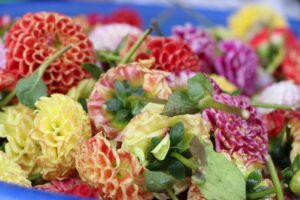 If you are celebrating Onam and looking to bur flowers for your pookalam and home decoration, you may want to check out the hawker stalls on South Mada Street east end and a few off the old Thanithurai Market on Royapettah High Road.
One flower seller near the Chitrakulam says that save for one type of flower which is marketed for the Onam season, the rest are the ones available almost through the year.
But prices are stiff for almost all varieties. One, because of the current unsettled situation of transport and business and two, due to the festival season when demand goes up.