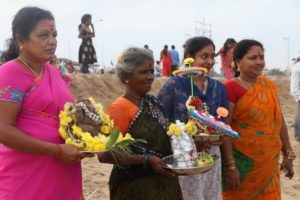 Recently, the state government announced that installation or procession of Vinayaka idols at public places will not be allowed during the upcoming Vinayaka Chaturthi festival.
Now, to ensure this rule is followed by the public, the Foreshore Estate police have started taking some steps.
Says a police inspector attached to Foreshore Estate police station, "We have held a meeting with representatives of communities who regularly conduct immersion at the sandy side of Patinapakkam beach. At the meet, we made it clear that immersion/procession of Vinayaka idols will not be allowed, this year due to lockdown restrictions."
"We have also made arrangements to close part of beach area where immersion generally takes place. On the day of immersion, which usually happens a week after the festival, we plan to deploy policemen for security," he says.
The police says that there have been many appeals, especially from youngsters to allow immersion here. "Youngsters, who traditionally hold immersion rituals at the beach have been asking us permission to carry out poojas and immersion in a small manner. However, we asked them to avoid any kind of public celebration."
We have encouraged all to celebrate at home using eco-friendly seed Vinayakas, he adds.
File photo used here is of Vinayaka Chaturthi immersion of 2019; used for representation.