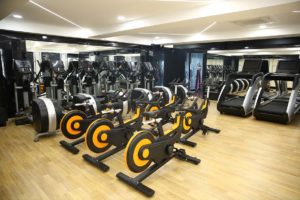 Gyms in Mylapore are gearing up to re-open from August 10.
This after, the state government made an announcement allowing gyms to re-start operations from this day.
Since lockdown, all gyms were closed to prevent the virus spread.
At the popular '10 Fitness Laboratory', above the Hyundai showroom off Luz Church Road, manager Shivakumar says they have started intimating all their members (gym users), regarding the re-opening.
"But, we don't know how many would turn up."
The popular fitness centre that caters to over 400 people offers a facility to exercise and take dance classes as well. However, for the time being, the gym has decided to open its facility only for exercising.
The centre also plans to introduce a slew of safety measures here.
Says Shivakumar, "At the entrance, we will check the temperatures and oxygen levels of all our members. We will also make sure they sanitise their hands and wear masks while entering the gym."
"In addition, all fitness equipment will be sanitised after every use and trainers will wear masks and gloves."
However, usage of masks, he says will not be allowed while exercising as it can lead to breathing difficulties.
Says R. Upendra, owner of the well known Yos Fitness Studio at Kutchery Road, Mylapore, "Though we are re-opening, I don't think people would visit gyms any time soon. Many still have their apprehensions about the virus spread. But, we will open for people who may want to practice at our facility."
Upendra says that all precautions with respect to social distancing will be followed at the gym.
Picture used for representation; courtesy: 10 Fitness Laboratory