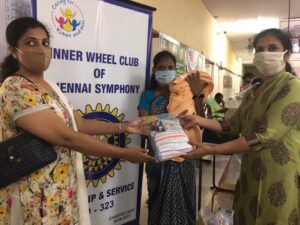 On August 5, an awareness campaign on breastfeeding was held at Urban Primary Health Centre (UPHC) at C.P. Ramaswamy Road, Alwarpet.
The event was organised by the Inner Wheel Club of Chennai Symphony, District 323, a women's organisation, to commemorate World Breastfeeding Week, that falls in the first week of August.

Says Sowmya Shankar, Secretary of the Club, "Our intention was to spread awareness on breastfeeding to young mothers, especially to those from poor backgrounds."
"So, we coordinated with Corporation's nurses and gave an awareness talk to around 30 women, who had arrived at the primary health centre for vaccination of their newborns."
The talk, she says was given by Dr Banumathy of their club. "She spoke to the lactating women in Tamizh, and urged them to breastfeed their kids at least for a year to develop a good immunity in them."
To help the women, the team also distributed kits consisting of baby blanket, dates, nestle protein powder, horlicks, toothpaste and a pack of rusk to them.
Sowmya says that all wore masks and adhered to social distancing norms.
"The event was held under the guidance of our District Chairman Usha Saraogi, Dr Anitha Paramasivam and Vidhya Sundar, the club president Kavithaa Srinivasan, members Veena Krish and Sheetal Satish."
Since its inception in 2013, the club has been actively carrying out various welfare activities for women and children from underprivileged sections of the society.