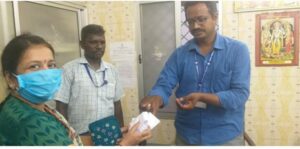 Staff at Mylapore Head Post Office in Kutchery Road were in for a pleasant surprise when a Mylapore based doctor distributed immunity-boosting homoeopathic tablets to them at free of cost.
Recently, Dr Rekha Srinivasan, a Homeopathic consultant gave 100 packs of Arsenic Album 30, a homoeopathic tablet recommended by AYUSH ministry to staff here.
Says Dr Rekha, who has been running Raj Homeo Clinic at Kutchery Road for the past 20 years, "After the AYUSH ministry recommended this tablet to boost immunity, the Indian Homeopathic Medical Association (IHMA) has been distributing them all over the country."
"Being a part of the Association, I too wanted to reach out to front line workers in my backyard. So I spent money from my own pocket and gave them the tablets."
The doctor says she has so far distributed these tablets to some 25,000 frontline workers including Corporation officials, sanitary workers and policemen from across the city. "I carried out the distribution with the help of my friends."
"As staff at post office too interact with dozens of people daily, there is a high possibility of them getting infected by the virus. Hence, I gave these tablets to them."
Said a senior staff from Mylapore Head Post Office, "We were overwhelmed to receive the tablets. Though we are taking all precautions, gestures like these push us to keep working without the fear of virus spread."
The staff says they have already divided the tablets among themselves and started having them.
Picture shows Dr Rekha distributing the tablets to local Corporation officials;