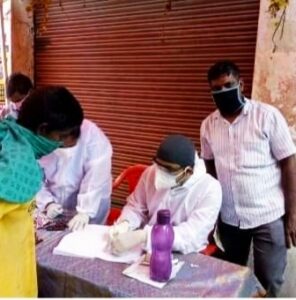 The small group of residents, who distribute food to homeless persons at Mathala Narayanan Street did something unique today.
They got the Chennai Corporation to hold fever camp on this street so that hundreds of homeless persons, who come here to collect lunch every day can be tested for the virus.
S. Vidyanathan and family, of this street have been distributing homecooked food to over 300 homeless persons since early April.
Says Vidyanathan, "Every day, hundreds of homeless persons come to collect lunch that we provide. So as a precautionary measure, we requested the Corporation to hold a fever camp here."
"Corporation officials too were wanting to hold a camp on this road as a number of people gather here daily."
And so a fever camp was held this noon opposite to Vidyanathan's house.
He says that close to 250 homeless persons participated in the camp. "Health workers checked their temperatures. Participants were also given tablets to boost their immunity. Swabs of a few persons were collected."
Following this, we distributed food packets and water bottles to homeless persons, he adds.
Picture Courtesy: Baskar Seshadri