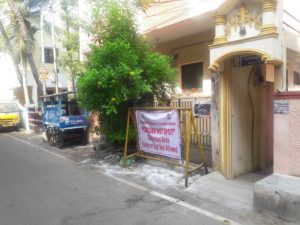 August 17 saw streets like Kesavaperumal Sannithi Street, Natesan Colony, Madhavan Nagar 1st and 2nd Street reporting their first virus cases.
According to Chennai Corporation's data, these three streets in Mylapore have not reported any virus cases until now.
Apart from the three, 14 other streets also reported virus cases on this day. Totally, 17 streets in the neighbourhood had virus cases on Monday.
Here is the list of streets that reported virus cases on August 17.
Ward 119: Musiri Subramaniam Salai, Dr Radhakrishnan Road 8 th Street
Ward 122: Adyar Club Gate Road
Ward 123: Natesan Colony, Ramaswami Street, Bheemana 1st Street, Prithivi Avenue
Ward 124: Thiruvalluvar Koil Street, Kesavaperumal Sannithi Street
Ward 125: CID Quarters
Ward 126: Norton Road, R.K. Mutt Road, Periyapalli Street, 12th Trust Cross Street
Ward 173: Rohini Garden Cross Street, Salaiyar Street, Madhavan Nagar 1st and 2nd Street
The information is provided by Chennai Corporation at its website https://www.chennaicorporation.gov.in/images/POSITIVECASES.pdf
Picture: file photo shot in late May 2020; used for representation only