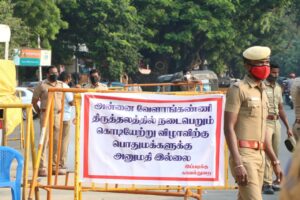 Hundreds of pilgrims who had decided to wall from their homes to the Annai Vailankanni Church in Besant Nagar since morning were stopped by city police on the fringe of Adyar to stop them for gathering in large numbers outside the locked church.
Through the morning, the flow of pilgrims was thin and they were seen walking down San Thome High Road and R. A. Puram.
The flow increased appreciably after 1 p.m. with families dressed in 'kavi' clothes walking in silence, headed to Besant Nagar.
Since morning, police were stationed at the ends of Thiru Vi Ka bridge over the Adyar river and beyond, with barricades on the roads to check pilgrims who travelled in vans and cars. The police stopped the pilgrims and asked them to turn back home.
In the morning, church priests also stood alongside the police to explain to pilgrims the regulations that had to be followed. The church management had also asked pilgrims not to walk to and congregate at the shrine but watch the religious services that are webcast.
Today is the first day of this annual festival; starting with the shrine's flag being hoisted followed by holy Mass. The feast is on Sept.8.
Ordinarily, there would have been thousands of pilgrims on roads leading to this church on this day of the festival.