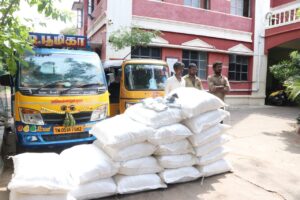 Mylapore Police have arrested three persons who were involved in transport of banned substances that are sold to people to give them a 'high'.
Bags of the substance which were transported in an auto and a mini-van were also seized in this operation said to have taken place near CitiCentre mall on Dr. R. K. Salai on Wednesday night.
Police who are assigned cases on transport and sale of banned substances and based at Mylapore say that the goods were being moved from north Chennai to the south but are not sure of these were meant for distribution and sale in the Mylapore area.
Investigation is on and cases have been booked.