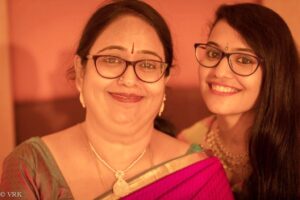 Within weeks of its launch, this chaat business has become a hit. Yes, even in these pandemic times. And you have to ask this mother-daughter duo – Apoorva Gayathri and Radha Rameshkumar who have been residents of MRC Nagar in R. A. Puram for 7 years now.
Being food lovers, chaat is something their family couldn't do without.
Says Apoorva, a resident of Rani Meyyammai Towers, "Having lived in Hyderabad for 20 years, we used to have popular chaat available there daily. A few years ago, when we shifted to Chennai, we realised very few outlets served authentic North Indian chaat here. That's when we felt the need to start a homemade chaat business."
However, their venture took shape only a fortnight in early July. Young Apoorva had just completed her MBA (Finance) course and was waiting for offer letters from companies she had applied to. However, due to lockdown, the replies were getting delayed.
"Meanwhile, I didn't want to sit idle. And so we decided to finally kick off our longtime dream of opening a restaurant, with homemade chaat business," she says and adds, "I instantly named it R R Chaat after my mother Radha and father Rameshkumar. However, my father pitched in with the official name 'R R Let's Chaat' so people could be encouraged to have a 'chat over a chaat' at our restaurant."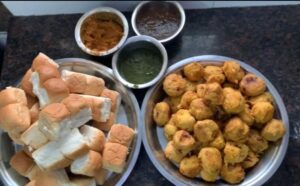 But that food joint will have to wait – perhaps when life gets easy.
Soon, a WhatsApp group was formed to spread the buzz about the food offer. And Rameshkumar, a chartered accountant took charge of handling accounts.
The family also made small posters of their business and forwarded them to friends and neighbours. Within two days, they received an order for 99 plates, all from families in the apartment complex where they reside.
"Everyone, loved the chaat as it was homemade and had a unique taste," says Apoorva.
Slowly, the word spread. And orders started pouring in from Mylapore, Adyar and Gopalapuram. "We now receive an average of 120 orders daily", she says.
Items on their menu include North Indian special chaats – pav bhaji, dahi papdi, masala vada, vada pav and pani puri.
Among this, the best sellers, Apoorva says are panipuri, cutlet ragda, vada pav and pav bhaji.
Barring the mixtures, she says all items are made at home using her mother's special recipe. "Even the ginger garlic paste and all three chutneys (sweet, spicy and tangy) for chaat are made fresh at home in a hygienic manner."
Recently, they have also added to the menu a healthier version of chaat – misal pav. It's similar to pav bhaji, except that here the bhaji (gravy) is made of lobiya (peas) and sprouts. And a special 'Bombay mixture' is mixed with gravy and had with pav, she explains.
So how do they manage to make over 100 plates of chaat every day?
"After quickly wrapping up household work, mom and I start preparing chaat from around 11 a.m. Unlike, other food items, preparing chaat is not time-consuming, so it gets over by 3.30 pm. We then pack it in aluminium containers and go out for delivery," says Apoorva.
Customers have to order a day in advance.
For now, the delivery is carried out by Apoorva and their car driver, after taking necessary precautions.
A plate of pani puri (8 pieces) is priced at Rs 30. Open for deliveries on all days except Tuesdays and Wednesdays. For details call 9600066474