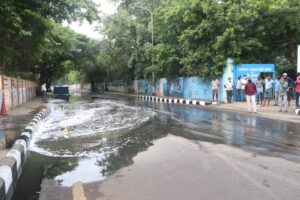 Sewage and waste water has been flowing on to Brodies Castle Road since pre-dawn on Sunday – this road runs on one side of the Chennai Corporation playground near the 'Jesus Calls' campus in R. A. Puram.
The area is polluted and the stink has spread all over.
This mess was caused when it is said that while at work, contract workers of a private Internet services company damaged the key pipeline from the local Metrowater pumping station located opposite the playground.
This happened during cable laying work at night and Metrowater staff have detained a few workers who are accused of causing the damage which had led to the pollution.
This station is a key one, pumping out sewage that is led to Perungudi, from the south sids of the city.