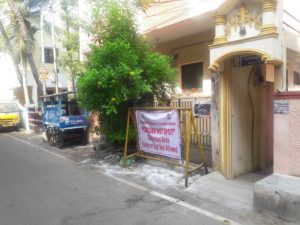 On Saturday, Aug. 22, a total of 22 streets reported virus cases in Mylapore.
According to Chennai Corporation's data, 5 streets reported virus cases at Ward 173, and 4 each reported cases at Ward 126 and Ward 124.
Two each had cases at Ward 121 and Ward 125, one each was reported at Ward 119 and Ward 122. Also, 3 cases were reported at Ward 123.
Here is the list of streets that reported cases on this day.
Ward 119: Dr Radhakrishnan Salai
Ward 121: Nagarathinammal Colony, Veeraperumal Lane Bangarammal Street
Ward 122: Alwarpet Street
Ward 123: Warren Road, Canal Bank Road, East Abhiramapuram 1st Street
Ward 124: Madhavaperumal Kovil Street, V.C.Garden 1st Street, Vedanta Desikar Street, St. Mary's Road
Ward 125: Appu Street, Karaneeswarar Pagoda Street
Ward 126: Trustpakkam South Street, 14 Trust Cross Street, Kanagaraya Malaiyappan Street, West Circular Lane
Ward 173: South Kesavaperumalpuram Main Road, R.K. Nagar 4 th Cross Street, Narayanaswamy Thottam 1st Street, Greenways Road Lane, Srinivasapuram 1st Main Road
Picture: shot in late May 2020; used for representation only.