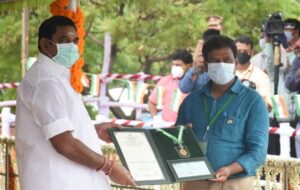 On the occasion of Independence Day, Tamilnadu government decorated CSI School for the Deaf in San Thome with 'The Best Institution' award.
Chief Minister Edappadi K Palaniswami presented this award to school headmaster W. James Albert, during the Independence Day celebrations held at Fort St. George, this morning.
Says Headmaster James Albert, "The award is very special for our school, as this is the first one we have received from the government in 108 years of our existence."
The school caters to hearing-impaired children from middle class and lower-middle-class families. And over the years, it has been doing all it can to make its students self sufficient.
The school supports its outgoing students with college admissions. After they finish college too, it goes out of the way to place them at appropriate companies. Says the Headmaster, "In the past three years, we have helped 351 passed out students with job opportunities at various companies including IT companies."
"For students who drop out of school/college, we provide vocational training in courses like baking, and tailoring and then place them at suitable companies."
In recent years, the school has also developed its infrastructure.
"With the help of donations from Madras Spice Round Table 159, Madras Spice Ladies Circle 133, World Vision, Timkin Foundation, Tech Mahindra Foundation, Tamilnadu Christian Council, and Habitat India, we built over 10 classrooms, 2 labs, and 2 separate toilets for girl students."
The school is also constructing a college exclusively for hearing impaired students.
Through the lockdown too, the school has been reaching out to its students by distributing essentials.
"We have also collaborated with the government to distribute medicines and provisions to neighbourhood families, who call at government helpline for disabled persons (1800-4250111)."
"Also, with our own funds and donor's support, we distributed dry rations to over 600 families with physically handicapped children in the interior villages of Tamilnadu."
Now that the school has received appreciation from the government, the headmaster says he plans to actively continue these services.