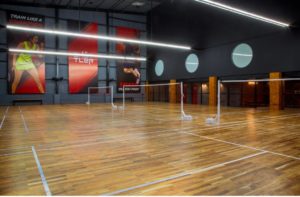 Shuttler, the popular badminton facility at Dr Radhakrishnan Salai, Mylapore has re-opened for business.
The centre re-started operations, a few weeks ago, after the government allowed sports arenas to function without spectators.
Says Nobin Jose, Operational Head, Shuttler, "We have 6 courts, 3 each at two floors of our facility. However, now we are letting only 4 courts for booking, so players can follow social distancing."
"At a time, we allow only 20 people after checking their temperatures."
Apart from this, he says, sanitisers are placed at key locations of the centre. And entire arena is disinfected twice a day. Also, all touchpoints are sanitised frequently. In addition, the centre is also asking its members to bring their own badminton rackets and shuttlecock to prevent virus spread.
Having closed for months after March, the centre has been facing problems to pay maintenance cost and salaries for employees.
Now, although Nobin hopes business would revive, he points out the current response is nowhere close to pre-Covid times. "Before virus spread, we had 250 members practising here. But now only 75 are coming daily."
The number, he says was much lower when they re-opened in late July. "People were very sceptical about contracting the virus. But gradually from August, more people are dropping in."
"Since lockdown, as most members have been homebound, they have gained weight. So now they are wanting to get into some form of physical activity. And as badminton involves interaction with only 2 or 4 players, they don't have much worry of virus spread," he adds.
The facility will be open from 6 am to 8 pm on all days except Sundays. Players can book the court on an hourly basis.
Price – Rs.800/ hour. The centre is also offering some discounts this month.
At Dr. Radhakrishnan Salai, 9th Street, Opposite to Citi Centre. Ph:7604984996.