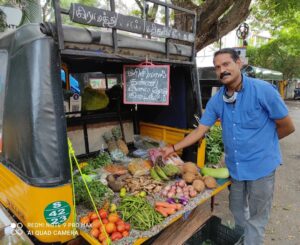 With no business for months, this share auto driver has turned into a vegetable vendor.
A resident of Saradapuram, near KVB Gardens, R.A Puram, P. Prabhakaran is now selling a range of vegetables and some fruits from his auto.
He has also made some special arrangement – opened rear door of auto and placed two tables, closeby to spread the items, he sells.
Says Prabhakaran, "Following lockdown, as schools, and workplaces were closed, I lost my business completely. My wife Gangavathy, who had completed MBA (Finance) was looking for jobs in late March. But she too could not get placed as no one was recruiting during lockdown."
Also, my mother-in-law, who was working as a domestic helper lost her job after lockodown. However, we had to run the family and take care of my two small daughters, he says.
And hence, Prabhakaran along with wife Gangavathy started selling veggies a few weeks ago.
Says Gangavathy, over a phone call, "Initially, we were not sure if this business would run. So we took small loan and bought only few quantities of keerai for sales. But, to our surprise, keerai got a good response."
Then, the duo slowly started selling other veggies including tomato, brinjal, lady's finger, and green chilli. Ganga says they mostly sell organic veggies. "Twice a week, we visit Thiruporur, to get fresh and organic veggies, keerai (palak, spring onion, manathakkali keerai, muruga keerai) and some fruits like navapazham directly from farms there."
Recently, they have started selling vadagams, chekku oil, some households items ( phenoyl, brooms) and few saplings too.
Now, their business seems to be picking up. Ganga says over 40 customers residing in the neighbouring apartment complexes buy from them. To make the purchase easier for people she has also provided a facility to order via WhatsApp.
"Everyday, I take pictures of available veggies and send to all customers via WhatsApp. They then message list of veggies they want. I quickly pack them. And customers pick it at their convenient times."
"To ensure the veggies are good, we also personally cook all vegetables at home and then only sell it, " she adds.
The duo say the money they get from veggie sales is just enough to earn daily bread. "Most of the profit we get goes into repaying the loan, we took to run the business. Going forward, we hope more people would buy from us."
A bunch of keerai is priced at Rs 20 at their shop, located opposite the More supermarket on Kamarajar Salai, R.A.Puram. Ph: 9952077015/9150106881.