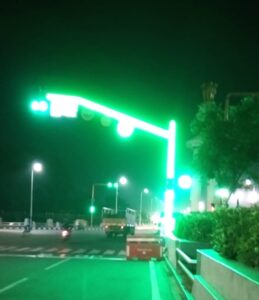 Thanks to new 'LED traffic pole' at Kamarajar Salai in Marina, motorists travelling on this road will now be able to view traffic signals here from a distance.
To enable this feature, recently, the traffic police fixed LED stripes on the L-shaped pole that holds traffic signal opposite Gandhi Statue.
Now, whenever traffic signals appear, the LED lights on this pole too would emit the corresponding colour of signal, making it visible from long distance.
For instance, when the signal turns green, the entire pole will also go green.
Says a police officer attached to Marina police station, "We installed the LED traffic pole on August 13. Since then, motorists have been very appreciative of this initiative. They say it is useful for them."
The LED pole has been introduced as a pilot model. Based on its success, it will be replicated across the city, he says.
A few weeks ago, speed breaking rumblers with a similar functioning were installed here.