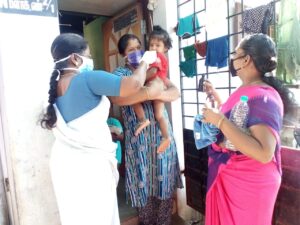 Urban Primary Health Centres (UPHCs) in Mylapore are now administering vitamin A syrup to children.
The activity is a part of UPHC's regular work, that is carried out every year.
Since Monday (Aug. 24), UPHC's nurses have been going around the neighbourhood to perform this task. This after they were relieved from Covid-19 duty, a few weeks ago.
Says a nurse from UPHC at C.P. Ramaswamy Road, Alwarpet, "The syrup is given to children aged between 6 months and 5 years, to protect them from night blindness. We have already administered the same to children at Kapali Thottam, Pallakuma Nagar and Visalakshi Thottam."
In all areas, she says they make door to door visits and identify children in the age group. And then administer them Vitamin A, after taking precautions to prevent virus spread. "The work is carried out with the help of Anganwadi teachers."
"For children who are left out now due to unavailability, the vitamin will be administered at a later date," she says.
Alternatively, parents whose children fall in this age group may also visit nearby UPHCs from August 27 to August 31 (except August 30) and from September 1 to September 4 (except September 2) to get vitamin A administered to their wards.
Here are a few UPHCs in the neighbourhood.
Bheemanampet UPHC (ward 123) – C. P. Ramaswamy Road, inside Lions Diabetes Centre, Alwarpet.
Mylapore UPHC (ward 124) – 22, Mundagakanni Amman Kovil Street, Mylapore.
San Thome UPHC (ward 125)-14, Appu Second Lane, Mylapore.
R. A. Puram UPHC (ward 126)- 17, R.K.Nagar, Second Main Road, R.A.Puram.
All centres will be open from 8 am to 4 pm