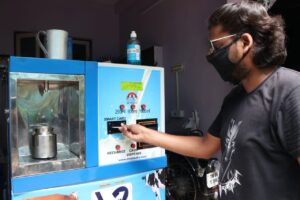 With his hostel business turning dull, C.Kamaraj, a hostel owner based in Mylapore has started selling milk to run his family.
For the past 10 years, Kamaraj has been running hostels for both men and women at the city's IT hub Perungudi and Thoraipakkam.
However, following lockdown, as all his hostel's occupants, mostly IT goers were asked to 'work from home', the hostels became empty.
Consequently, Kamaraj lost his business completely and had to close down his hostels.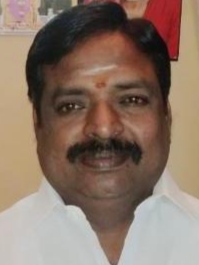 Says Kamaraj, "Now, although I have two sons who are working in IT, I cannot depend on them for my daily needs. So I was mulling over the idea of starting a new business, since the past few months."
That is when, Kamaraj's friend, who runs a dairy farm in Arakonam suggested him to sell cow's milk through 'Milk ATM', an automatic milk vending machine.
Soon Kamaraj researched online. And as he found the business ' hassle-free', he bought the Milk ATM from Coimbatore at the cost of Rs. 3 lakhs.
"The machine has been in use in Salem, Coimbatore and other parts of India. But this is the first time, we have brought it to Chennai," he says.
A week ago, Kamaraj began selling milk from his home in New Street, Mylapore.
"Now, every day at 6.30 am, my friend sends pure cow's milk from his farm in Arakonam. We then fill it in the 300-litre capacity Milk ATM and starts sales. "Till now, he says 25 litres are being sold daily. "We hope business would gradually increase."
Kamaraj says the machine is pre-programmed to function as a refrigerator. "Its operation is the same as the ATM." Explaining this, he says, "When a person inserts Rs 10/ Rs 20 note in the machine's slots, it dispenses corresponding amount of milk. Customers can themselves operate and collect milk in their vessels."
One can also pay Rs 50 and get a 'smart card'. Thereafter they can recharge it with say Rs 500, and use it to buy milk from the machine, he says.
A litre of his cow's milk is priced at Rs 64.
Kamaraj promises to provide fresh milk 24/7 at his house at 61A/84, New Street, Mylapore. Ph: 9789891111/6369700265