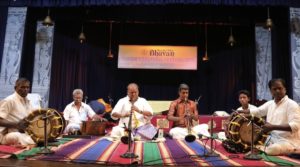 Bharatiya Vidya Bhavan, Chennai says that its annual music festival, timed for the famed December Season will be hosted at their open-air premises in Bhavan's Rajaji Vidyashram, Kilpauk.
The fest is from  November 28 to December 19, 2020.
The Bhavan says leading artistes have agreed to participate in this three-week long festival which will feature vocal and instrumental music concerts and religious discourses.
The programmes will be from 6.00 pm to 8.00 pm every day.  Entry is free but on a first-come, first-serve basis.
K. N. Ramaswamy, director of Bhavans says, "Bearing in mind the on-going situation which necessitates physical distancing norms and do not allow cultural programmes to be hosted in closed door air-conditioned auditoriums, the Bhavan has decided to make use of its large open-air premises for live performances.  The premises will be suitably lit and decorated to give a festive look."
He says the Bhavan will follow all safety norms for seating purposes.  Drive-in car facility will also be available for those who arrive in their own vehicles to enjoy the live concerts.
To ensure that Bhavan's regular music and dance rasikas in and around Mylapore who pack into its hall in Mylapore every November enjoy the Kilpauk-based fest, a dedicated shuttle bus service with safety norms will be offered to and from the venue from different locations like Mylapore, Triplicane and Alwarpet zones, free of cost.
Photo used here is of a previous BVB fest.