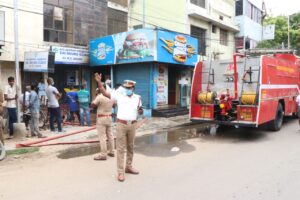 A fast-food restaurant was badly damaged in a fire on its premises on R. K. Mutt Road close to noon today, Sept.21.
A fire service engine which arrived at this sport that is not far from the MTC Mandaveli bus terminus junction, on the western size addressed the fire.
Firemen were seen neutralising any dangers that could break out inside the small food joint called Cheesy Juicy Burgers.
Firemen said that a electrical short circuit could be the cause of this fire.
Local store keepers said that the food joint had re-opened recently after the lockdown period.