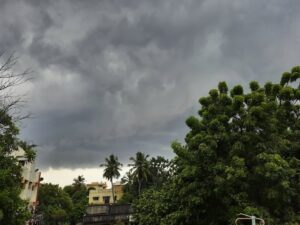 Heavy rains lashed all parts of the Mylapore zone on Monday and residents of many areas reported flooding of their streets.
The rain-bearing clouds were seen closer to 4 p.m. and the rain was accompanied by rolls of thunder. The wind was also strong as it rained.
It rained for close to an hour.
Residents from Abiramapuram, Mylapore and Mandaveli reported that small streets got flooded as there wasn't any facility for the water to drain out.
Some residents suggested that this was the time for Metrowater's local zonal teams to create simple water harvesting pits where flooding takes place and there are no proper drains.
Photo used here is by S. Prabhu. It was shot on Monday evening.