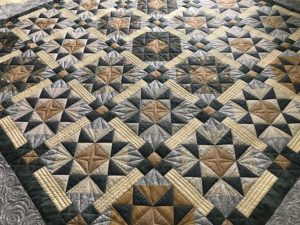 The second edition India International Quilt Festival for 2021 will be an online only fest, different from the on-ground festival which had its core venue at Sankara Hall in Alwarpet and featured some of the world's best known artistes.
Varsha Sundararajan, Alwarpet resident, senior quilter and core member of Quilt India Foundation says that the 2021 show 'will be a fully virtual online festival with all the regular features of quilt competition, lectures, workshops, e-catalogue and artisan showcase.
The 2021 show will be online from January 23 to 25.
A special addition to the festival is an exclusive competition category for Gen Next (those aged under 18).
Says Varsha, "In these challenging times, working with one's hands nurtures creativity and provides a mindful, meditative respite from increased exposure to gadgets and electronic screens."
  The Quilt Foundation is now reaching out to schools to encourage students to participate.
There is also a separate category for Indian Quilts. The Theme this year is Floral Rhapsody.
Registration opened on 1 Sept.
Contact – contact@indiaquiltfestival.com