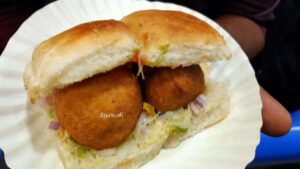 Kicha's corner, a franchise of the popular snack joint of Sowcarpet has come to Mylapore.
The outlet recently opened on Royapettah High Road, near Thanni Thurai market.
The small store painted with vibrant yellow colour now offers all food items, that would be available at the 22-year-old Kicha's corner in Sowcarpet.
And owner M. Muthukamar says, "Its taste will be 100 % same as the snacks at Sowcarpet outlet."
One of Kicha's specials, Muthukumar says is Kucha. "Fillings with a mix of veggies, cheese and sauce are sandwiched between two khakras to make this food item."
Bunza is yet another Kicha's special snack that is a combination of burger and pizza.
Apart from this, the store offers a range of chaat items (vada pav, pani poori, bhel poori), pizzas (double cheese veg), sandwiches (murukku sandwich) and puffs (veg, cheese). "All these foodstuff will be offered hot and fresh at the store."
A variety of cakes (choco truffle, mango, oreo, triple berry) are also available here.
Also on offer are 'Jain' snacks – puffs, sandwich, and pizzas, prepared without onion and garlic. "This is for people of the Jain community."
The store has a space to seat 10 people. Open for dine-in. Soon, door delivery will be provided via Swiggy and Zomato. The shop takes essential precautions to prevent virus spread.
A kucha (small) is priced at Rs 60. Timings: 11 am to 8 pm For details call 9500092826.