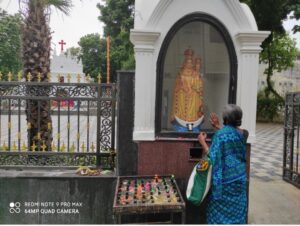 Our Lady of Light Church (Luz Church) re-opened its doors for the public on September 2, Wednesday
The Church will now be open from 6 am to 8 pm on all days.
Says Rev Fr Peter Thumma, the parish priest here, "Every day, a Mass will be held at 6.30 am. Following this, the church will be kept open for people to come and worship till 8 pm."
On Sundays, we are planning to increase the number of Masses to prevent crowding, he says.
In addition, to prevent virus spread, Father Thumma says, "Sanitisers will be provided for people at the gate. The prayer hall will be thoroughly sanitised after every service. Arrangements will also be made for people to wash their hands and legs before entering Church."
He says they will also make sure people visiting Church are wearing masks.