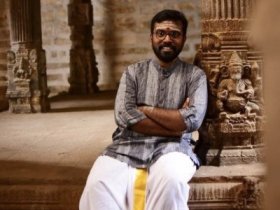 Noted heritage enthusiast and conservationist Madhusudhanan Kalaichelvan was announced as the winner of the THT – Prof. S. Swaminathan Heritage Award by Tamil Heritage Trust (THT) on Sept. 5.
The award was instituted by Tamil Heritage Trust to honour the work of individuals under the age of 50 who have made significant contributions to depening the general public's knowledge of Indian heritage.
The award is named after Prof. S. Swaminathan, retired professor from IIT-Delhi, scholar and co-founder of the trust. He is a resident of Warren Road, Mylapore. The winner was chosen from a short-list of nominations by a six member jury comprising historians, scholars and public intellectuals.
The award carries a citation and a cash prize of Rs. 25000. The award will be presented to Madhusudhanan at a ceremony to be held in October. For details contact Badri Seshadri at 9884066566 and Siva Thiagarajan at 9884294494.