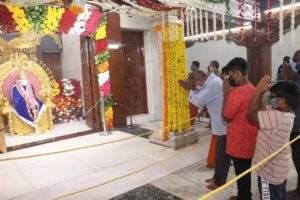 The popular Saibaba Temple on Venkatesa Agraharam Street in Mylapore has re-opened now. But all guests and visitors have to follow the regulations strictly.
People have to sanitise their hands and get body temperatures checked to gain entry; temple volunteers ensure people keep a distance inside the temple premises and are allowed only to stay and pray only for a short while.
Nobody is allowed to sit or stand in the hall and pray or meditate for long.
People who accept the prasadam are asked to partake of it outside.
The temple, for now is open for limited hours in the forenoon and evenings. Timings ; 7 to 10 am; 3 to 6 pm only.