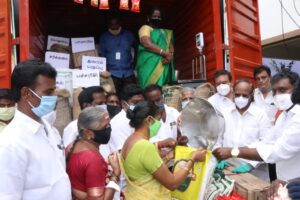 The Tamil Nadu government has launched mobile ration stores to enable ration-card holders who reside some distance away from neighbourhood ration shops to get their rations locally.
In the Mylapore zone, coinciding with the launch by the state's chief minister at the Secretariat, a symbolic event was held in Solayappan Street, Mylapore this Monday evening, Sept.21.
A mini-lorry packed with all the dry foodstuff which is offered as rations – like rice, dhal and sugar – arrived at the street corner and set up a temporary shop. Some 20 ration card holders queued up to receive their rations.
The weighing, billing and card entry and payment was all carried out on the street.
Mylapore MLA, R. Nataraj was present to launch symbolically, this ration service in the Mylapore area.
Said one ration card-holder who was in the queue, "People from this area have to go all the way to a ration shop near Sri Mundagakanni Amman Temple. This service is helpful."
The daily schedule of the mobile ration service catering to the Mylapore zone is still to be drawn up. A government staffer said that once the timetable is drawn, it will be publicised locally so ration-card holders can await the rations-serving lorry.