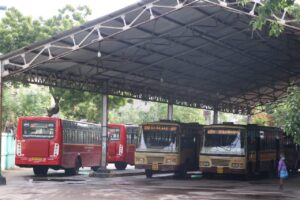 MTC bus services have resumed since this morning from its Mandaveli bus terminus.
MTC staff here said that buses on all routes originating from and to this point will be operating as per the standard schedule but follow the SOPs issued by the state government.
State-run bus services were stopped in late March when the pandemic broke out and some buses were used to run special services for government employees at the TN Secretariat.
However, even at 10 a.m., there were only a handful of people who headed inside the bus terminus located off R. K. Mutt Road and got into the buses they wanted to board.
The buses were cleaned and spruced up yesterday at the Mandaveli depot next door to be ready for today's services.