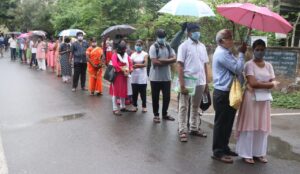 The zone around P. S. Senior Sec. School in Alamelumangapuram in Mylapore was abuzz since 11 a.m. this Sunday, Sept.13 as students and parents headed here for the NEET test that was to be conducted across the country for admission to under-grad courses in medicine and dentistry at colleges.
Simple markings were made on the streets leading to the school gate to allow students to take their place in the queues and also keep social distance.
But since many students came along with parents or guardians, there was a sizable crowd in the area after noon. Some students continued their revisions while some others partook of snacks. Since it drizzled off and on, students who had not brought umbrellas stayed put and got wet.
Local police patrolled the area and made sure people did not crowd.
At the school gate, body temperature was checked and sanitisers offered. The campus was out of bounds to all but candidates with call cards. The test was scheduled at 2 p.m. and unconfirmed info was that close to 400 candidates were allotted this venue for the test.