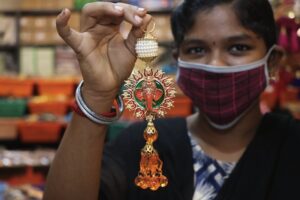 One shop that you may surely want to check out this festival season and is a fairly destination one is Sri Vijaya Stores on North Mada Street.
For Navaratri, this shop has displayed a variety of crafted and utility items which make nice gifts.  Designed bags, colourful kumkum containers, danglers and decorations, fancy jewellery and miniature lights for the pooja room, kolu bommais and more.
Prices range from Rs.20 to Rs.200 for the items on display now, making it affordable for those who want to pick up a dozen or so little gifts for the festival.
There are also all the items you need for religious events and festivals.
Call 24957555 / 24956556.