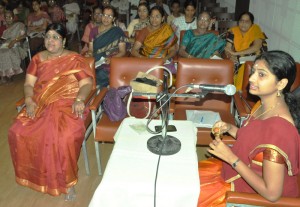 Bharatiya Vidya Bhavan on Mylapore's East Mada Street is a hub of activity round the year. Classes, concerts, discourses . . .That of course was in ordinary times.
Now, the main auditorium and three smaller halls for recitals and talks have been shut since late March.
The Bhavans also offered classes in music and dance and yoga besides basic computing and allied subjects to youths who could not afford to pay stiff fees elsewhere.
Though the classes in music and dance had to be suspended, the teachers have been asked to hold online classes for their wards.
Says K N Ramaswamy of Bhavans, "We wanted the children to maintain the link and continue the classes. It doesn't matter if some of them cannot afford to pay the fee we charge."
The Bhavans has no plans as of now to re start recitals or discourses since regulations do not allow such. But it has put out its December Season music fest schedule; the fest will be held at its Kilpauk campus from late November.
Photo used here is of a past recital event at BVB and for representation purpose.