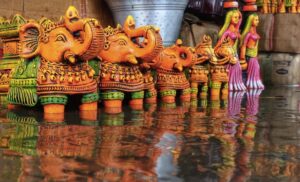 A sudden, strong burst of rain at about 1 p.m. sank the spirits of the hawkers of kolu bommais on North Mada Street in Mylapore.
In the period that it rained, water began to gather and flood on this busy street.
Since many hawkers expect rains at this time, they had plastic and tarpaulin sheets ready to use to cover their stalls displaying dozens of kolu bommais.
But at some places on the street, the water flowed to the street corner and began to float on to the pavement, damaging the cardboard boxes and packing materials.
Hawkers have kept saying that sales are less than average this season. Shoppers though say that the prices are stiff and bargains are not going their way and that they have refrained from buying bommais here.