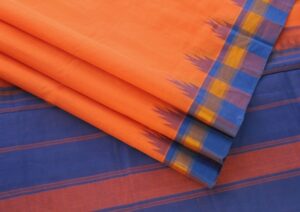 Co-optex launched today its festival season exhibition and sale of its best collection of handlooms and is offering a 30% discount on bills.
The sale, on at C. P. Art Centre hall in Eldams Road, Alwarpet is on till Nov.2 to cater to Deepavali shoppers.
On sale here are hand-woven organic cotton sarees, authentic Karaikudi Chettinadu cotton sarees and intricately designed Coimbatore cotton sarees.
Also on sale are traditional Aruppukottai, Dindigul, Madurai and Trichy sarees, richly designed Negamam and Paramakudi sarees besides the fancy Salem sarees.
There is also a range of simple kurthis, M. S. Subbulakshmi themed special collection, naturally dyed cotton sarees, the Ahimsa pattu-silk sarees, Thirubuvanam and Darasuram silks.
Also on sale are readymade shirts  and home furnishing.
Timings of sale: 10 am to 8 pm. Major credit/debit cards are accepted
This sale is open on Sundays and on holidays.