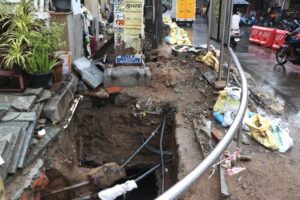 People who use Venkatesa Agraharam Street, which leads from R K Mutt Road to the Saibaba Temple zone say that pedestrians face a danger caused by the ongoing civic work here.
The south side section of this busy street has been dug up. We are told that this work is to create a drain for rainwater that will finally end up linking with the pipes led into the tank of Sri Kapali Temple.
While the work has been on for a few days, the contractor of this job has not used barricades to mark the work area. Residents here say that at night there is a good chance of cyclists or pedestrians slipping into the mud or dug-up pits.
A lot of cables are seen hanging across the work zone.