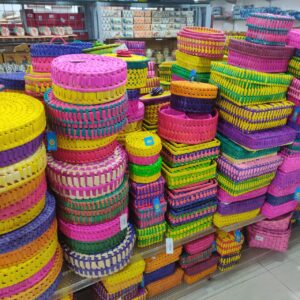 A range of return gifts for Navaratri are now available for sale at Giri Trading Agency at Kapaleeswarar Sannathi Street in Mylapore.
These include colourful palm leaf baskets and decoration lights.
The baskets come in different sizes and some of them have compartments too.
In addition, the store also sells a variety of dolls, kolu stands, reusable kolam/ rangoli patterns, tamboolam bags, small gift packs and more for Navaratri.
One can also visit their website https://www.giri.in/ and shop online.
A small basket is priced at Rs. 50.
At 14, Kapaleeswarar Sannithi Street, Mylapore. Ph: 7550221031