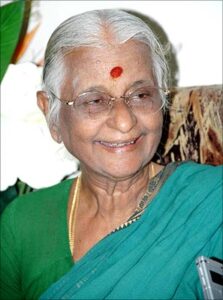 One of the best-known and widely recognised social workers of the city, Savithri Vaithi passed away on Saturday, October 10. She was 90 years old and had been ill for some time.
She was widely known for two major projects – the Monday Charity Club and Vishranthi Old Age Home for seniors located on the East Coast Road – the latter being an idea that was realised at a time when society was yet to think of a place that could take care of seniors who were all alone.
Savithri hailed from a family of judges from Mylapore and she is said to have floated community outreach ideas even when she was in her teens. Soon, the Monday Charity Club was formed ( its office is based on TTK Road, Alwarpet), with people known to her becoming its members.
Funds the Club raised went to support the poor, students and women. The Club celebrated its golden jubilee in January 2020.
Known for her philantropy and concern for the destitute and the abandoned aged, Savithri also focussed on the idea of building a space for these women. Building on temporary facilities first, the Club finally got a donation of land in Palavakkam on the East Coast Road – a  donation made by AVM Rajeswari of the famed film family, AVM. Vishranthi came up here.
Today, Vishranthi Old Age Home cares for some 175 aged women who did not have a place to live a decent life, providing them the best medical, food and therapy facilities.
Savithri was one of the earliest social workers to highlight the problems and plight of senior citizens and she and her team had to knock on many doors to seek support for the Home.
Her ideas and work inspired many others who chose to look after senior citizens in this city and outside.