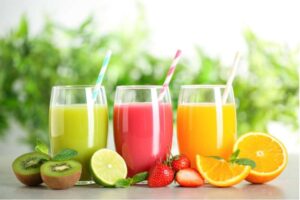 Juice World store at P.S. Sivaswamy Salai, Mylapore is providing special offers for Navaratri.
A variety of combos like french fries and muskmelon juice, veg. burger and grape juice are now available for sale here. Each combo is priced at Rs 99.
Offers are also on for its custard apple and fig juices.
The store has also introduced momos (panner tikka, corn cheese and veg. schezwan) and wheat chappati rolls (Chettinad paneer, paneer butter masala) in its menu.
Says Bairavi Dineshkumar, owner, "The momos and chappati rolls have become a hit among customers. The immunity-boosting juices – ABC juice and amla juice, that we introduced recently are also moving well now."
She says that the ABC juice will have flavours of ginger, mint and honey in addition to that of apple, beetroot and carrot. Amla juice is available in flavours of mint and ginger. The store also sells tender coconut now. A 10 % discount will be provided for new customers.
The store has also kept kolu for Navaratri. "So one can also see our kolu while having their favourite snack/juice."
At 150/63, P.S.Sivaswamy Salai, near the Madras Sanskrit College, Mylapore. Ph: 9500162314.
Picture used for representation only; courtesy: https://trifocusfitnessacademy.co.za/