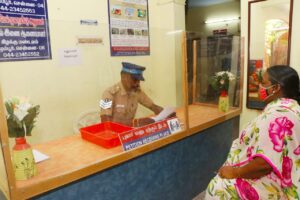 Mylapore Police Station has made a new arrangement to prevent virus spread at its premises.
The reception desk that used to be inside this station has been shifted to its portico. A glass guard is also fixed on it.
Says V Kuzhanthiavel, Head Constable, "Every day, a number of people, visit the station to submit petitions/complaints. And the staff at the reception desk is their first line of contact."
"Although, both the public and staff wear masks, there is a high possibility of the virus spreading to the staff while interacting with the public. Hence, we have made this arrangement."
"The glass guard is installed to provide protection to reception staff. In addition, a bench is also kept near the desk for the public to stand away from the staff."
The Head Constable says they also make sure public visiting the station are wearing masks and are using the hand sanitizers kept here.
The reception will be open for receiving petitions/complaints 24 *7.