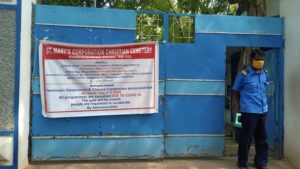 A banner has been put up on the gates of the Chennai Corporation Cemetery for Christians located on St. Mary's Road that people must refrain from visiting the cemetery on All Souls Day – November 2.
That day is observed annually by the community to pray and remember the dead in their family. Many people visit the graves of their near ones to lay flowers and say a prayer.
In normal times, hundreds of people visit Christian cemeteries and it is to curb this stream of people during the pandemic time that the civic body had advised this regulation. But if there are funerals that day, they will be carried out.
This cemetery is managed by Our Lady of Guidance Church in R. A. Puram.
People will be allowed to visit the graves on other days but the stream will be regulated by staff at the cemetery.